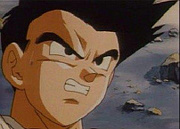 Dragon Ball GT
[edit] Search for the Black Star Dragon Balls
In Dragon Ball GT, Goten has a girlfriend named Valese. Later on, he was supposed to aid Goku in the search for the Black Star Dragon Ball Super Saiyan Goten During GTs, but he was left behind in the Black Star Dragon Ball hunt when Pan went aboard the spaceship - which should have carried him, Goku and Trunks. But an eager Pan hit the launch button before Goten could get on board. Like the other Z warriors it is unknown what Goten was doing during the Black Star Dragon Balls search. Probably still training, and spending time with his girlfriend Valese are the only obvious clues as to what Goten was doing during the search of the Black Star Dragon balls.
[edit] Baby, the evil parasite
Goten in Dragonball GT.On the trio's homebound trip back to Earth with the complete set of seven Dragon Balls, Goten encounters the parasitic Baby, and is forced to fight him. When Goten tries to destroy Baby with a Kamehameha wave, Baby liquefies himself and invades Goten's body, taking advantage. Continuing in his search for Vegeta, Baby Goten returns to Capsule Corporation, where he encounters Bulma, Chi-Chi, Videl and Gohan, who are unaware that Baby has taken control of Goten. Sensing Gohan's superior strength, Baby makes plans to transfer himself into Gohan. Baby Goten punches Gohan, but the others shrug it off as sibling rivalry, and Chi-Chi requests that they "take it outside". Goten, while under Baby's control.Once in a secluded place outside, Gohan reveals that he knows Goten has been possessed, and Baby Goten launches an offensive against him. Not wanting to injure Goten, Gohan refuses to fight back, but is forced to transform into a Super Saiyan 2 to ward off Baby Goten's attacks. Baby uses the opportunity to transfer himself into Gohan's body.
Gohan and Goten appear at their house and they start to fight Goku and Pan right away. Goten powers up to a Super Saiyan and Gohan to a Super Saiyan so that they could force Goku to fight them. Gohan even promises to kill Pan, and he knocks her out. This makes Goku mad, and he starts to fight at full power, but just before he launches his Kamehameha wave at Goten and Gohan, Hercule and Majin Buu show up and explain what has happened. After being revived by the Sacred Water, Goten helps restores Goku's Super Saiyan 4 powers, along with Gohan, Trunks and Pan. Soon afterward, Goku finally defeats Baby, and Goten assists in evacuating the Earth before its destruction (due to negative energy from the Black Star Dragon Balls, which had been used by Baby to create a New Planet Tuffle).
[edit] Super 17, the ultimate android
Goten is seen in a restaurant with Valese when an interview with Hercule shows up on a television in the restaurant. Hercule states that he is going to retire. Goten comments on the interview, stating, "And as long as I don't enter, I won't have to take his place" (meaning the tournament would be a breeze for him, and he can surely become champion if he competes). Goten is seen in the city with Valese, and as soon as the villains from hell appear in the city, Goten, along with the rest of the gang, fight the villains that escaped from Hell. Most of these fights are easily won by the Z-Fighters. Immediately after destroying the villains, Goten, Gohan, Trunks, Vegeta and Majuub team up to try and take down the powerful Super 17. They attack altogether, but cannot take down the Android, even in their Super Saiyan forms. Goten is then seen, when Old Kai is explaining to Goku about the negative energy of the Dragonballs. When Goku decides to fix the problem at hand Goten and Gohan both wish to help their father, but Goku insist he needs to do it on his own.
[edit] The Shadow Dragons
Goten and Gohan attack Omega Shenron.Goten along with Majuub helps Save his fathers life in his battle with Syn Shenron. The Z Warriors then appear ready to fight the Dragon, but Goku has a better idea. Goku ask for Goten, Trunks and Gohan to give him their Super Saiyan energy, While Majuub try's to hold off Syn Shenron. Goten helps restore Goku's energy, along with Trunks and Gohan, during Goku's fight with Syn Shenron. Goten, Trunks, and Gohan try to help Goku and Vegeta fuse by holding off Omega Shenron. They succeed, and Goku and Vegeta fuse into Gogeta. Later on, Goten watches as Omega Shenron is destroying Goku and Vegeta and says, "I can't take it anymore." and goes to help, but is stopped by his older brother Gohan. Later on, when Goku is presumed to have been killed by Omega Shenron, Vegeta decides the Earth's best bet is for him to try and defeat Omega Shenron while everyone else escapes. Before sending them off, Vegeta requests that Goten, Gohan, Trunks continue the fight if he fails. The three half-Saiyans say goodbye to their families and decide to go back to help Vegeta in the fight, but they are all easily defeated. However, they do succeed in distracting Omega long enough for Goku to charge his Universal Spirit Bomb which destroys the Shadow Dragon. Goten is last seen taking his mother back home after the fight and telling her his father will probably come back when he gets hungry. Goten is the only warrior who seemed relax and confident that Goku will return, unlike the other warriors (this shows that Goten's father-son relationship with Goku has a lot of trust, understanding, and faith).